Outcome of the First Philippine Blogging Summit
May 7, 2005 - History was made as the
First Philippine Blogging Summit
took place at NISMED, UP Diliman. More than 300 participants
registered
for the said event.
(Photos courtesy of
Jonathan Lao, care of Prof. Disini,
and
Joey Abiog
. For the complete details of the event, including shockwave, macromedia flash, and pdf,
click here
, also by Prof. Disini. Then you will find more links there. )
Prof. JJ Disini
, UP Law ISP Director
Prof. Disini talked so fast during the opening remarks, that's because he read what he said.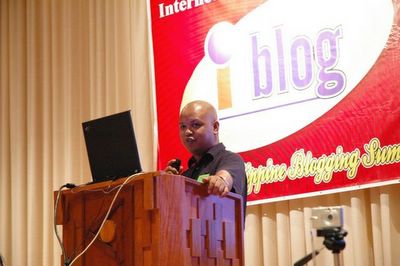 Abe Olandres

How to Start Your Own Blog was the topic of Abe. He had a cool presentation, including an actual demonstration of creating a blog account using blogger.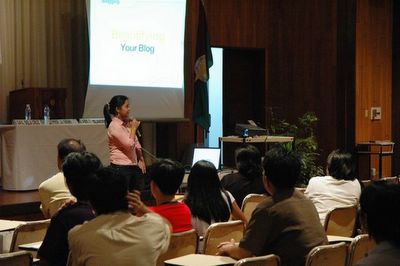 Gail dela Cruz

Gail seems to know everything about Beautifying Your Blog. Yet she reminded that someone is always better. She offered free consultancy too.


Dondi Mapa
Dondi Mapa is the Commissioner for Information and Communications technologu. He discussed about Governance and Blogging. I wanted to ask him as question, how can the security be the initial concern for the bloggers, say President Arroyo. If we access her site, how can we be sure that she is the one blogging and not somebody else. This might be
another similar case
to Friendster. (Yet, as I was surfung the other day, "she" already has one. Commissioner Mapa also said things about the blogging of
Norma Lasala
and that it was therapeutic for her. Never was he aware that I was the one who got the BTR Manifesto published:
in my blog
, in
Business World
, and
Today
. (Good thing I was able to keep silent all that time. He also said that third-pary custodianship is better! Just read more about it in Ms. Lasala'a blog.)
Dean Alfar
Blogging Creatively: The Blog as a Writer's Medium,discussed more of fictional writing, as well as blogging directly, no editing. Yes I do edit sometimes, and for that the post seemed more tame than what I intended to. He also spoke of blog posts can just be the activities of our daly life, but when someone runs out of something to talk about, then that is a major problem.


Alecks Pabico
Connie Veneracion
How to Build a Bookmark-worthy Blog was the most-awaited topic, since the speaker is the queen of Philippine blogging. She never winced at her talk, not once. Connie (aka
The Sassy Lawyer
, and is really is) was direct to the point. Her advice: never beg for links.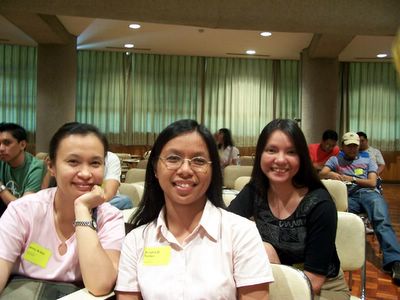 with some new friends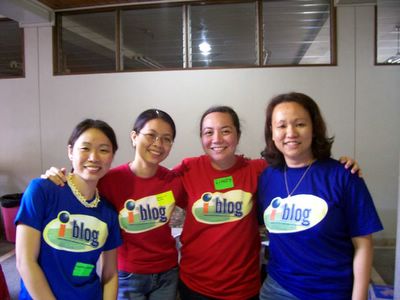 The SHIRT
Class Picture